Eddystone is an open source and cross-platform Bluetooth Low Energy (BLE) beacon format developed by Google. Eddystone can be detected by both Android and iOS devices. This technology is named after a historically famous lighthouse in English coast in the county of Cornwall.
Well, it is not just the open nature; its key qualities are interoperability and long-term strength.
Eddystone makes it easy to add new functionality as it supports multiple frame types for different use cases.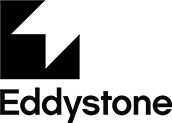 Beacons meeting the complete Eddystone specification can broadcast data using any tool that implements the Eddystone Generic Attribute Profile (GATT) service. In order to provision a beacon or to attach content to the beacon, developers can use the Google Beacon Tools app for both Android and iOS.

Eddystone Has Four Frame Types:
| | |
| --- | --- |
| Eddystone UID | Universally Unique Identifier is a unique 128 bit static ID that identifies each beacon and is divided into two parts: Namespace and Instance. |
| Eddystone URL | It sends compressed URL directly to end user's device (think Physical Web!) |
| Eddystone TLM | It broadcasts information about the Beacon. It sends telemetry data such as battery level, sensor data or other relevant information. TLM-Telemetry combination with Proximity Beacon API's can help administrators monitor beacons' battery health and displacement. |
| Eddystone EID | Ephemeral Identifier is the secure variant of Eddystone UID. It is designed to secure advertising packet by changing the ephemeral identifiers broadcasted by Beacons at regular intervals. It allows only authorized clients to decode them. |
Working with the Google APIs:

What Can You Do With Eddystone Beacon App?

Deliver Engaging Campaigns
Drive customer engagement with rich-media proximity campaigns. Proximity Marketing enables marketers to deliver rich media content like images, gifs, audio or videos to their target audience creating a unique experience for shoppers.

Increase Footfalls
Searching for interesting discount offers can be troublesome when you don't know where to find them. With the help nearby map customers can locate where offers are running, navigate to that venue and also help them find their indoor location. This results in increased foot falls and revenues for retail outlets.

Boost Sales
Ensure customer retention with the help of loyalty campaigns. Reward your loyal customers through personalized coupons, loyalty points upon purchase, referral discounts etc.

Collect data about your customers
The key marketing goal of any business is to drive campaigns that carries the right message for right person at right time. With the help of a beacon app you can collect customer information such as name, email, social profile, product preferences as well as demographics such as age, gender. This data can help you design personalized campaign for your customers.

Analyze Customer Behavior - Advanced Analytics
Beacons brings in increase accuracy when tracking customer interaction and conversions. With the help of beacon you can measure customer visits, frequently located places, average time spend in-store, etc. With the help of these advanced analytics you can analyze the preferences of your customers, modify in-store displays and deliver them personalized offers.
Custom Eddystone App Development
Beacons Area Monitoring
Proximity Based Deals/Offers/Coupon App
Temperature & Humidity Measurement Using Eddystone
Proximity Marketing Solution
Indoor Positioning & Navigation
Trusted Eddystone Beacon mobile app development company having years of experience in delivering robust BLE app solutions
Our team of expert developers and business analysts offer customized app solutions helping you accelerate in terms of business growth.
Updated with the latest design, tools and trends to convert your idea into reality and to generate high ROI for your business.
Custom application development at competitive prices
Extensive use of Project Management Tools such as Basecamp, Jira, Zoho.
Seamless communication through Phone/Skype/Email
Frequently Asked Questions (FAQs) About Eddystone Application
The difference between Eddystone and iBeacon is not much since the battery consumption is more or less the same when it comes to supporting one frame type. The battery consumption increases as the frame additions start to increase.
Beacons find their usage in Proximity marketing, Indoor and outdoor(for a definitive range) navigation, People and asset tracking, proximity location analytics.
Beacons operate on a lower range than GPS, which works on a broader proximity. Thus it's useful to target people and assets within a 70-meter range or as little as 10 inches.
Ibeacon is iOS native but compatible with Android too, and Eddystone is Android native but compatible with iOS too. Ibeacon transmits one advertising packet and one Unique Identification Number (UID) whereas Eddystone transmits four different frames: UID, URL, TLM and Ephemeral Identifier (EID)
There is a misconception that Beacons send messages. Beacons only sense proximity, and through BLE(Bluetooth Low Energy) technology, it triggers the app in the user's device. Thus the app gets active and triggers notifications or offers messages to the user.
Beacons do not receive signals from mobile devices and hence do not aid in tracking footfalls. They gather data by communicating with the in-built apps present in mobile devices.