Rapid technological advancements in the smart devices have led to invention of modern tools and pioneering technologies like wearable devices. Wearables are modern devices that are not only used for the purpose of entertainment but are intended to bring high mobility, live access to data, and context-awareness into the lives of people in a hands-free manner. At BLE Mobile Apps our prime focus is to deliver custom wearable app development solutions to help you stay ahead of the game and gain competitive advantage.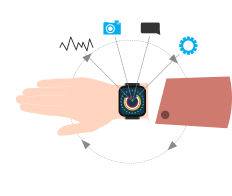 Fitness Trackers
Also known as a Activity Trackers, it's a device for monitoring and tracking fitness-related metrics such as walking or running distance, calorie consumption, heart rate as well as quality of sleep.

Smart Clothing
Know by various names such as E-textiles, smart garments or smart fabrics, these fabrics merge with electronic components and acts as sensors that stream real-time data to a smart phone. Popular fashion brands are launching smart clothes that monitors heart rate, breathing as well as stress levels.

Smart Watches
Wearable computing device worn on user's wrist that offers functionality and capabilities similar to those of a smartphone such as listening music, making calls, sending messages, and accessing various applications.

Head-Mounted Displays
Devices that deliver virtual information directly to your eyes. They provide enhanced user experience with features like recording & sharing videos, taking photographs, finding information among other things.

Smart Jewellery
Wearable jewelry includes a range of devices like earings, necklaces, bracelets & rings that alert users to important calls and texts when unable to access their phone. These sleek pieces of jewellery are deceptively smart and comes with the best of design and functionality.

Implantables
These are devices that are implanted under the skin through surgeries. Currently these are used in the form of Active Implantable Medical Devices (AIMD) such as pacemakers, defibrillators, nerve stimulators, etc.
IOT-based Wearable Apps
Smartwatch App Development for iOS and Android
Wearable Healthcare and Fitness Apps
Utility Apps for Wearable Devices
Wearable Apps for Entertainment
Wearable Apps for Enterprises
Being one of the early adopters of the wearable technology, we deliver innovative and user-experience focused solutions for wearable devices.
In-house team of highly skilled and professional Wearable device app developers having in-depth knowledge of both iOS and Andr oid Wear development.
Re-engineer your existing mobile applications and upgrade it to a wearable compatible app.
Core focus on delivering quality product on time while following international coding guidelines & standards.
Dedicated project manager and team for round the clock support and maintenance.
Frequently Asked Questions (FAQs) About Wearables App
There are a few factors that are required to funnel down to the cost. Selected platform, list of features, working hours, and the time are necessary to determine the cost. Our experienced IoT specialists can help you with a consultation and a free quote.
In the development stage, many challenges occur, such as creating an intuitive User Interface, meeting the defined purpose, cross-platform compatibility, user-friendliness, data security, and speed of operation. Our developers are well-experienced and equipped to meet all these challenges to deliver the best possible result for our clients.
Yes. We do guarantee that the app store accepts your app developed by us because we cautiously make sure that we follow the guidelines of the respective app store.
Yes, we develop wearable apps that are compatible with multiple platforms like iOS, Andriod, and cross-platform.
The time frame for any application development can be produced based on your requirements and the complexity of the project. We give you the milestones that are achievable periodically.
Wearable devices carry sensors attached to them, which are capable of tracking various activities in that area like tracking motion, interacting with other objects in the vicinity, and many more.