iBeacon is Apple Inc.'s implementation of Bluetooth Low Energy (BLE) technology standard, which enables Mobile Apps (both iOS and Android) to receive signals from beacons and exchange information within short distances. In essence, iBeacon technology allows the beacon hardware to determine the proximity and location of nearby devices and establish connection between the physical and digital world. It provides personalized user experience and serves as an ideal solution for the enterprises as they can target customers on one-to-one basis and market their products or services.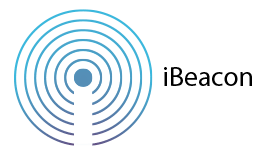 The function of iBeacon is to send every bit of information at regular intervals. Beacons themselves are low-cost, low-powered transmitters equipped with Bluetooth Low Energy. Apps installed on your iPhone search for the signal transmitted by these beacons and perform actions when the phone comes into the range.

With iBeacon, the format for BLE Advertising has been standardized by Apple. An advertising packet, under this format, consists of four main pieces of information:
| | |
| --- | --- |
| UUID | A 16 byte string used to differentiate a large group of related beacons |
| Major | A 2 byte string used to distinguish a smaller subset of beacons within the larger group. |
| Minor | A 2 byte string meant to identify individual beacons. |
| Tx Power | It determines the proximity from the beacon. TX power is the strength of the signal precisely 1 meter from the device. Devices use this as a reference to give a rough distance estimate. |
How iBeacon App Help Your Business
Personalized Interaction
Helps in delivering personalized user experience
Gathering Feedback
Allow users to provide feedback according to their experience, and thus increases your chances of getting instant feedback.
Virtual Employee
With iBeacon app, the user would just need to be in proximity to the product and the beacon will broadcast all the information related to the product. App can also have a feature wherein they can compare products.
Convert customer to
App users:
With the personalized experience they receive through an iBeacon App, you have the opportunity to acquire and retain your customers as your app users. With the iBeacon app installed in their phone, they'll receive app notification when in vicinity to your store, and get updates on latest offers or discounts.
Types of Applications that can be build using iBeacon Technology

Resources Tracking Apps
We develop location-based resource tracking apps that can be used in multiple domains such as hospitality, retail, finance, and transport etc. Our iBeacon apps can track table availability in cafeteria, tracks location of employees, track children at school or home, etc.

Way-finding Apps
Indoor navigation/indoor positioning mobile apps which can help the blind/physically challenged people to navigate to different secti ons through the app, enable employees to navigate to unoccupied conference rooms inside the tall buildings/campuses.

Interactive Tour
With the help of iBeacon technology, you can develop a mobile app which can be used by visitors at Art galleries, Museums or at Zoo. When they are near to some attraction, with the help of notifications, they get detailed information about what they are looking at. Notifications can be in the form of text, images or even a video.

Educational Apps
iBeacon technology is transforming the way information is shared in the classroom. Beacon apps installed in Tablets/iPad , through proximity detection, can display and share data that is relevant to that particular time and place. Teacher can use real-time polls, treasure hunt cards or widgets to get students interact with the surrounding and be aware of real world scenarios.

Automation Apps
Beacon enabled apps can offer can offer all kind of automation - home, commercial or industrial. Locking/Unlocking of doors, Switching on the lights while you enter the front door to opening garage door while you're at the entrance, everything is possible with the help of Bluetooth low energy technology.

Push-driven marketing
With the help of push-driven marketing apps retailers can send real-time push notifications about products and services at right time and right place. These notification may include product information, discount coupon or details about the offers running in the store. These personalized messages can help boost in-store sales and build customer loyalty.
Custom iBeacon Application Development
Vehicle Tracking and Monitoring
iBeacon App for Mobile Payments
Utility App Development
Indoor Maps & Navigation App
Social Network Application
Proximity Marketing Solutions
Integration in Existing Apps
Why choose BLE Mobile Apps?
Renowned iBeacon app Development Company having extensive skills and technical expertise to offer core BLE solutions
Help you deliver location-based information to target right audience at right time earning maximum footfall.
Our goal is to develop apps that can create, customize, and deliver targeted, proximity-based content as per your business requirements.
Our engagement models are designed to offer you the complete flexibility and scalability required to add new features.
Core focus on delivering quality product on time while following international coding guidelines & standards.
Frequently Asked Questions (FAQs) About iBeacon App
Ibeacosn, with the help of Bluetooth Low Energy(BLE) technology, detects the location of the customer, whether near to the store or within a proximity range. Then, it sends messages to their mobile devices about store information, offers, and more.
The maximum distance that beacons can reach is 70 meters. However, limitations are present due to external disturbances, physical objects, signal disruption due to natural happenings. The range is adjustable in 7 different levels.
Ibeacons can trigger apps to function even if they are not running at the moment in any iOS device. Ibeacons work only for iOS devices and not Android.
IOS enables visually impaired to communicate through text-to-speech and voice-activated recognition easily. These commands are in-built with Siri and support Braille via Bluetooth.
While Beacons can only display Unique Identifier Number (UIN), iBeacons can identify not only the numbers but also the range. Apple iOS supports this functionality; therefore, iBeacons are a decent choice.
The main problem is dealing with external interferences and radio signals. But luckily, the iOS SDK manages and eliminates such complexities and much more.