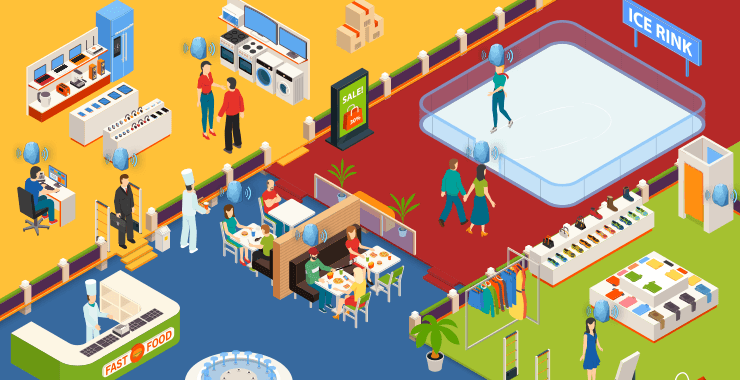 Hyperlocal marketing refers to tools required to identify the closeness of the customer to a particular location. It is due to its active method of targeting the audience present in a local area of a smaller radius. It includes framing customized advertisements to prompt the customer to purchase that product eventually and hence the term hyperlocal marketing.
Bluetooth Hyperlocal Marketing
Bluetooth hyperlocal marketing is also referred to as beacon marketing. Battery-operated small beacons are used for sending advertisement packets as short-range signals in remote locations.
When any customer enters the store with Bluetooth low energy android or Bluetooth low energy iOS app, personalized promotional advertisements will be notified. The users can turn these notifications off; however, a majority of them prefer receiving personalized content. Thus, the success ratio is relatively high with Bluetooth technology.
Bluetooth beacons are less expensive, have a relatively straightforward implementation procedure, and work as intended every time. From big-box retailers to small-scale businesses, beacons are deployed across various verticals, fetching a much greater ROI.
Working of Hyperlocal Marketing
Hyperlocal marketing works with two significant aspects: the customer's location and mobile phone usage by the customer. Smartphones with enabled GPS technology would be tapped in or to send customized adverts. Companies also use WIFI and Bluetooth low energy technology through Bluetooth beacons.
Possible Targets with Hyper-Local Market
1 Anyone inside the store or close to any retail store with a smartphone can be a possible target. Consequently, when the customers come into the target location, a disclosure of offers is sent. In so doing, some of the customers may positively to go into your premises.
2 The next possible in hyperlocal marketing is mobile phone users, which forms the base of this type of marketing. Likewise, almost every individual is carrying a Bluetooth phone with them in the present day.
The marketing companies can utilize any small area going from a neighborhood to a storefront.
Additionally, the location could even be a block of a city or a division of the store.
Users of Hyper-Local Market
RETAILERS: Retail stores apply hyperlocal marketing to a broader level. Moreover, exclusive discounts and coupons are provided to any customer as a notification to their smartphones, whether it be BLE Android or BLE iOS-based platform. It helps to pull in customers to that specific business and also to engage the in-store visitors. Retailers like Lord & Taylor, Macy's, Amazon, and Target use beacons located in their store to welcome customers with products relevant to them depending on their shopping history.
Real Estate: Hyperlocal marketing advertisements target specific people who are looking to buy new homes, office space, or any rental accommodations. Limited duration benefits and other offers are pushed through this marketing.
Charitable Organization: They are the most noteworthy users of the hyperlocal marketing approach. Collecting funds and sending notifications within the community or neighborhood on their charitable events happen through Bluetooth low energy apps installed in the smartphones.
Restaurants: Several restaurants use hyperlocal marketing techniques to display advertisements on meal offers and memorable introductions. It targets both customers within the restaurant as well as the surrounding radius. They find that this type of marketing has been more beneficial when compared to spreading flyers. Surprise offers to the customers with the help of Bluetooth Smart or Bluetooth enabled wearable devices. It helps in customer retention, too, as the customers are tempted to revisit another time.
Travel Industry: Here, the hyperlocal marketing approach targets travelers or people looking for transport services in a specific location. Mostly this industry benefits from travelers from various locations who happen to pass by the particular travel service provider. Relevant travel deals and offers are sent to their smartphones. These deals may even include hotel or accommodation deals for attracting people to travel.
Benefits of Hyperlocal Marketing
It offers a higher competitive edge and thereby increasing the number of visitors.
The key to a hyperlocal marketing strategy is offering a personalized experience. In case the customer has opted out of such notifications, as an alternative, the staff gets notified when a regular customer enters. It is helpful as the customer gets a much superior personalized experience.
Geotargeting becomes comfortable for hyperlocal marketing. The need to cover the customers within the targeted area becomes effortless with the implementation of Bluetooth beacons.
A well-developed app with the right analytics is capable of attracting numerous customers. The campaigns that happen through hyperlocal marketing persuade customers to click on the app over and over. It helps in better app retention.
Communicating with customers becomes more manageable, especially for retail owners. It is because the targeted customers are the potential customers who can make a purchase. Push notification of the right personalized content, a discount coupon, or a promotional voucher shall do the trick.
Cost of Hyperlocal Marketing
The expense range of hyperlocal marketing is dependent on few factors, such as
App Availability
The inclination to retarget the customers
Gathering data about the customers or feedback
Final thoughts
Bluetooth technology offers a frictionless experience to improvise the current marketing campaigns. On the whole, hyperlocal marketing is here to stay. It has shown a significant success ratio in retail stores and other industries that have deployed Bluetooth low energy technology. It endures being the new battleground for mobile retail triumph.