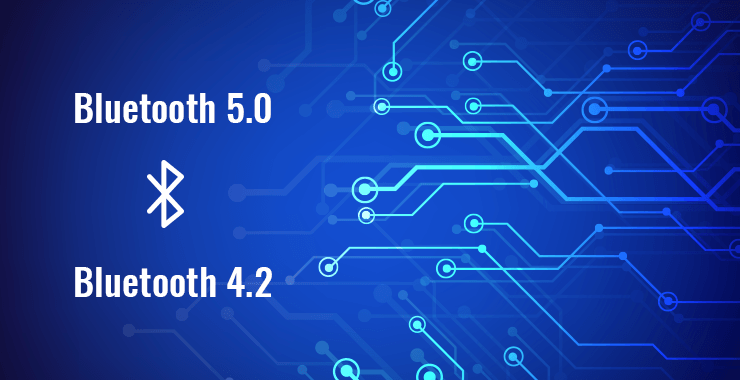 Bluetooth is a short-range wireless communication technology that enables smart devices to transmit data wirelessly over the short distances. Bluetooth technology uses radio waves for connecting the device while replacing the cables and still keeping the communications between them secure. Every year Bluetooth Special Interest Group (SIG) upgrades Bluetooth and this time with the increase in the use of IoT, it came up with the impressive outcome that dramatically improved performance and functionality.
Just because Bluetooth 4.2 and Bluetooth 5 do almost same things, these two different versions of Bluetooth have their own features and differences that may work for one device and not for the other. Bluetooth 4.2 is the more of a conventional version, may work great for some device; may not work for others. But Bluetooth 5.0 works the best for the smart devices that are launched after 2017.
The speed of Bluetooth 4.2 is 1 Mbps and Bluetooth 5 is 2Mbps which is twice the speed of the former version. The latter being faster than Bluetooth 4.2 can easily meet the IoT requirements.
Bluetooth 5.0 is designed to use less power on your device compared to the Bluetooth 4.2. This means it is okay to switch on the Bluetooth device and do the tasks for a longer period of time compared to the Bluetooth 4.2.
The capability of Bluetooth 4.2 in supporting an outdoor range is 50m and for indoor is 10m only. While Bluetooth 5.0 supports 200m in an outdoor environment and has 40m indoor range. Hence, if you are looking to have phone-call in your country yard with a wireless device or a listen to the music with wireless headsets, then Bluetooth 5 works the best.
The Bluetooth 4.2 has less message capacity i.e. about 31 bytes and gives 17 to 20 bytes for actual data payload. On the other hand, Bluetooth 5 has the large capacity of 255 bytes which gives more bytes for actual data payload.
Beacons have become more popular with Bluetooth 5.0 because of its speed and range. Beacons were not as popular because of low speed and range as well as small message capacity.
Due to its good range and high speed, it easily meets the requirements of IoT devices while Bluetooth 4.2 being slow fell short in terms of working range.
Bluetooth 4.2 will function smoothly with the devices that are compatible with Bluetooth version 4 series. But it will not work with the devices that have Bluetooth 5.0. On the contrary, Bluetooth 5 is backward version compatible with v1, v2, v3, v4.2 but will not be able to make use of all features of Bluetooth 5.0 to its full potential.
Conclusion
From the comparison above, it's quite imperative that Bluetooth 5.0 is far better than the previous versions of Bluetooth. With the increased data capacity, more range and faster data transmission, Bluetooth 5 has surely become popular with tech gadgets, Beacons (iBeacon and Eddystone) as well as Internet of Things (IoT).
If you have any questions about the Bluetooth low energy technology with regards to Bluetooth 4.2 and Bluetooth 5 versions, our experts can help you. You could give us a call at +1-408-400-3737 to learn more.