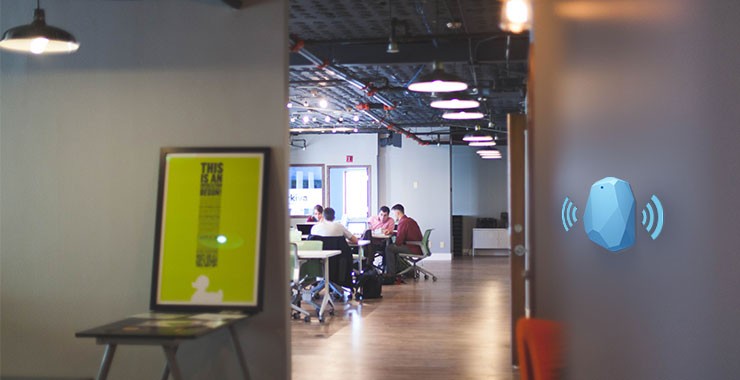 Millions of thoughts have been crafted about beacons and the idea to reshape the way people work. But what more we can expect from the use of beacons in office in near future?
Q1. Isn't it difficult to imagine your daily-life without outdoor location-based service like Maps?
Q2. Do you face challenges in increasing the productivity levels of employees?
Q3. Are you dealing hard in providing enhanced work-management with minimal disruptions?
Q4. Does manual entry on paper-sheet or excel-sheet is wasting your time?
If the answer to every question is a BIG YES; the solution to these challenges is the use of beacons in office – one-stop solution to enhance productivity!!!
Beacons have already spread its buzz in the retail sector especially at malls, stores, museums, parks etc. and now it is on the verge of spreading its wings in the offices. To start with, the preferable mobile application needs to be installed on employee's smart phone which is linked with Beacons installed in the office.
By installing beacons at the workplace, controlled corporate culture can be enhanced with the relaxed and flexible environment. It would enhance employee's productivity level and would change the way employees interact with their colleagues. Placing beacons in office at the appropriate places would make it easy for the employees to use its location-based services.
Let's dig in more to know how beacon can improve employee experience in the office.
Tracking the meeting rooms
Meeting rooms are the crucial part of every organization and managing it is bit tedious as it gets occupied frequently. In such scenario, beacon based applications would help them to identify the unoccupied meeting rooms, thus saving the efforts and time to walk down the office in search of it. Beacons track down the meeting room and the backend data gets updated each time when an employee enters into the meeting room. Mobile application linked to beacon can send the information about the location at regular time-interval to keep the employees informed of its occupancy status. Additionally, it can also help in tracking the employees whether they are present in the meeting or not without noting it out on a paper sheet or excel. The data analytics tracked from the sensors of beacon can aid in maintaining maximum occupancy with minimal disruptions increasing employee's efficiency.
Connecting with colleagues
Generally in large campuses, employees face the problem of connecting with other office colleagues. This problem can be solved by installing beacons in office to figure out the precise location of the employee. All they have to do is sign in to the app on entering the office premises and their location will get updated through proximity detection via beacons. This will improve employee's connectivity and will enable the other colleagues to locate them within the campus. From the business point of view, beacons can also provide important company updates that are relevant to the users such as the task of the day, to-do lists, birthday notifications etc even when they are not at the desk. Additionally, it also enables businesses to capture employee's check-in and check-out time based on the proximity data capture in the backend.
Health and safety of the workers
Safety of the workers comes first, when we talk about industrial workplaces. Here beacon based application acts as a savior as it triggers certain action on the worker's smart device. Workers can be warned to wear personal protective equipment (PPE) when they are near heavy machinery or any risky area. Additionally in case of emergencies, information can be sent by the beacon based on the worker's location. Some standard industry grade beacons can be installed throughout the area of workplace to notify workers of any accident like fire, hazardous gas or chemical leakage. During these emergencies, it generates and sends alerts messages to control room operator on their smart phones. Triggers and alerts sent by beacons increases the transparency of the worker's whereabouts and situations can be handled with great caution.
Other benefits of beacons in office
Provides real-time information about their surroundings by answering questions such as 'low' and 'high' traffic areas? Is my favorite menu is still available at the office café? Is my favorite workstation free? To be precise, it enables to reach the right person with the right message at the right time. Not only beacons helps to connect with the right audience, but also provides the ability to extend the reach and conversion rates.
With beacons in office, your physical world is made digitally rich as your office senses your presence through beacons based automation apps and acts as per your will, besides providing vital controls. These efforts improve efficiency and enhance the way we live and work.
Beacons can help in way-finding and make it easy for the new employees to navigate through the workplace. Employees can access and search for kitchen, washrooms, floor plans of multiple buildings and floors through their mobile device, ensuring that they can efficiently find what they are looking for.
Like beacon implementations in various industry verticals, the opportunity that beacons in office provide is boundless. It seems like beacons can breathe new life in office premises. Seeing the importance of this tiny device at the workplace, it can be surely considered as the vital part the company's digital strategy in coming future.
Interested in developing beacon based mobile app or already deployed beacons in office and looking to develop a similar mobile app? Get in touch with us today!
Check Out a Few of the Related Posts Mentioned Below: