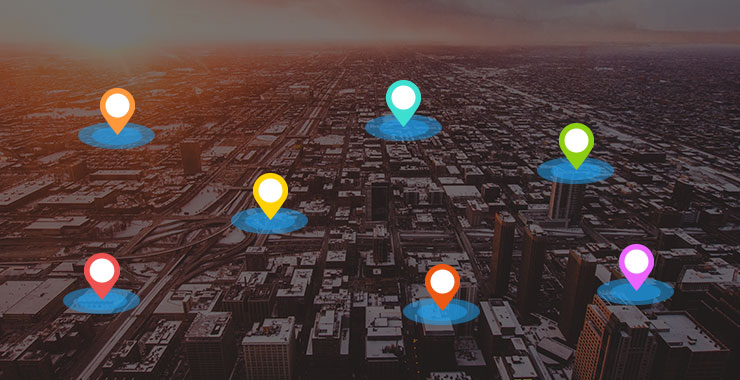 With the increase in mobile phone penetration in the lives of users, integrating location-based service in the mobile app can result in the monumental shift and can open new avenues for your business. As per the report by Markets and Markets, location-based service is forecasted to grow to $39.87 billion by 2019 at a compound annual growth rate (CAGR) of 37.5%. With geofencing feature in mobile apps, you can deliver personalized message to the people who enters or leaves the target location. Geo-fencing uses technologies like RFID, GPS, etc. to attract the right customers for the targeted campaign.
What is Geofencing?
Geofencing is setting up virtual boundaries around the specific location to trigger an action as soon as someone enters or leaves the target location. Boundaries can be precise location of your business, a larger region around your business or even the location of your nearest competitors. You are then able to send ads in the browser or social media feeds, messages or push notification whenever any customer is within the reach of geo-fenced area. For instance: Uber places geo-fences around large airports, sending notification to travelers.
How Does Geofencing Works?
By using GPS, geo fencing tracks the precise location and push notifies your customers regarding the whereabouts of your brand. Virtual perimeter can be fenced on the larger radius or a shorter radius; all depending the nature of the business and interest of the user. If you wish to target right audience at the right time by using geo fencing for mobile app, then using integrated SDK or plugin becomes crucial.
Installed SDK/plugin will read and manipulate the data from the smart phone sensors and you will be able to get the in-depth insight of your customers when they come within the perimeter of the fence. Different signals from the cell phone towers and WiFi can also contribute to identify the location by using the low power approach.
There are Three Types of Geofencing Action Triggers:
Static: Static trigger is based on the position of the mobile user with respect to the fixed area. For instance: In a fleet management mobile app, push notification sent to the driver when the driver enters to a accident-prone area
Dynamic: Dynamic trigger is based on the position of the mobile user with respect to the changing data stream. For instance, the user get notification about available parking space when near to the parking lot.
Peer-to-Peer: Peer to peer trigger is based on the position of the mobile app user with respect to the other users. For instance: Check-in notification of nearby friends on various social media apps.
How Geofencing Mobile App can be Helpful for Your Brand? Let's Summarize Below:
Drives more customers: Using geofencing for mobile app, your brand can get good exposure and reach people at a time when they are in vicinity of your store. Additionally, by adding geo-fences on the competitors location and send messages and offers promoting your business. You can even run co-marketing campaigns by tying up with businesses that compliment your products or services.
Get to know your customer better: Through geofencing you can collect personal information about your customers and by analyzing this data you create detailed segmentation of your customers. This helps you to target them better with ads, social media posts and push messages that are of their interests.
Targeting customers in an affordable way: With the right segmentation, you are not only reaching your target audience but you are driving traffic to your business in a cost-effective way. Most small businesses don't have huge budget for marketing but yet need tools to scale up their business; geofencing mobile app can cater the small business and enables them to reach the target audience at right place on right time.
Beacons and Geofencing both work to deliver enhanced customer experience…Here's the comparison between the two:
| | | |
| --- | --- | --- |
| |  Beacons |  Geofencing |
|  Data Collection |  Bluetooth |  Cellular/Wi-Fi/GPS |
|  Target Range |  Small (store aisle, bus stop) | Medium to large |
|  Real-time Targeting |  Yes |  Yes |
|  Best for |  Mobile and app marketing |  Mobile and app marketing |
|  Location data gathering |  Yes |  Yes |
|  Hardware and Maintenance |  Yes |  No |
Conclusion
Geofencing is an incredible marketing and advertising tool and if you have a local business as it can give you competitive edge. Integrating geo-fencing technology in your existing mobile app can help the businesses to target customers with the promotional offers in the areas of their interest. So, if you already have mobile app, do consider adding this useful feature and if you don't have an app, get one today…
As a full service BLE android and BLE iOS app development company, BLE Mobile Apps looks after the full lifecycle of your app from Planning and Strategy, UX/UI Design, App Development, QA/User Acceptance Testing, to Technical Delivery. Get in touch with us today to get started on your mobile app project.