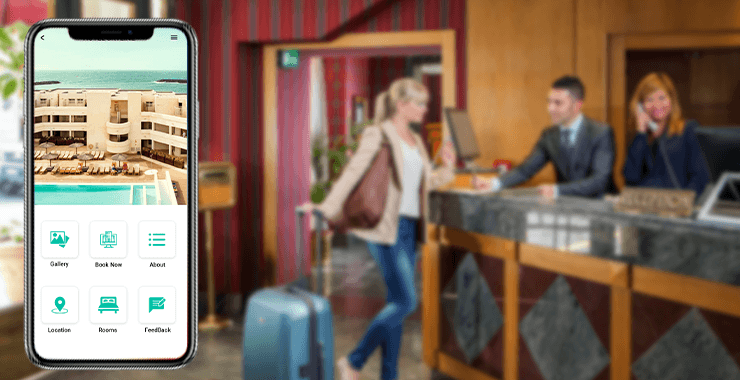 Customer satisfaction is one of the prime focus for the businesses across all industries. When it comes to hospitality industry, it is a tricky business to crack because hotels need to understand the preferences and concerns of each of its guests. Good customer experience is not limited to having a pleasant stay, nice food and great service but now hoteliers need to be technologically upgraded to provide enhanced guest experience.
Digital innovations provide hospitality industry a large array of opportunities which needs to be utilized to increase the level of service, competitiveness in the market and overall profitability. Beacon technology is one such innovation that can help hospitality industry to transform the way they do business.
Let's zero down more to know how BLE technology help hotels to provide enhanced customer satisfaction.
Automatic and hassle-free check-in/check-out process
Waiting in long queue in order to check-in the hotel after a tiresome journey is always boring and a tedious process. By using beacons in hotels, it can make check-in process smooth and easy without the need of hotel staff. When the guest walks through the aisle of the hotel, beacon recognizes the guest and they'll receive check-in push notification on the hotel app which may have reservation number and confirmation details. Push notifications are triggered when the guest crosses the geo-fenced limit of a defined beacon location. Guest can confirm their reservation number with a quick swipe of a finger and can digitally check-in without any delays. Push notifications act as a personal assistant all throughout the stay for a hassle-free guest experience at the touch of a finger or a voice command, that too in their preferred language.
Indoor Navigation
For indoor navigation, GPS is not an effective option as it cannot help to locate spa, swimming pool, gym area due to weak signals. On the other hand beacon can be used for indoor navigation to locate the room, casino, gym etc.  Beacon-based mobile app for hotels can offer monocle view of the route/ interactive road map and ensures that guests can reach at the destination inside premises without any hassle. Through a series of beacon inside a geo-fenced property, guests can be directed to indoor locations that are sprawled in several acres. Virtual maps can also be used to build an interactive tour of a hotel to direct user's interest in exhibits, shops etc. as they walk through the hotel.
Keyless Entry/Exit
Many a times keys are lost or misplaced by the guest and unavailability of the hotel authority may put the guests in trouble. Moreover, it can also be irritating when guest come to the hotel late night and card stops working, they need to go to the reception and wait for the staff to provide duplicate keys.
But what if they always have a key in their smart phone?
By installing beacons in hotels, digital room keys can be activated by the hotel mobile app once they checked-in. When the guest is in the proximity, the digital key is validated and unlocks the room door giving them a keyless entry to their room. The mobile app serves as a digital doorman and gives the guest an engaging and efficient hotel experience.
In-room controls
Most of the hotels have swipe key-card to turn on the lights of the room or guests have to reach out manually. By using Bluetooth low energy enable smart devices such as lights, ACs; guest's can control them via mobile app. All in-room features are accessible within the reach of the thumb and guest can manage everything while relaxing on the bed. Using a hotel app, guest can browse the menu, pick a favorite dish and place an order – all without having to move from the comfort of their bed.
Offers and loyalty programs
By providing right offers at right place and the right time and also with right ad targeting, location-based marketing can yield to sky-high conversation rates. Hotels can customize the offers to specific locations in the hotel premises and send them context-specific messages, when the guest is approaching the specific areas of the hotel. With the help of predictive analytics, hotels can get the data(via app) about the number of times guest stayed, their interests, past orders, amenities used etc. and based on their choice hotels can trigger context-specific push alerts.
Example
Starwood Hotels and Resort
Starwood hotels and resort has implemented beacon technology in their hotels in Manhattan and Silicon Valley which enables the guests to enter their room with the Starwood Preferred Guest app. Guest would receive a digital key on their smart phone and can unlock a key when they come within the proximity of the room. The app uses beacons to provide enhanced guest experience, providing location-based suggestions for dinner, shopping and other activities.
Conclusion
Beacon technology helps the hotel to provide their guest en enhanced customer experience with their customized app. With the help of BLE, hotels can identify customer's precise location and can deliver targeted services to enhance their experience. By knowing customer's insights, hotels can offer personalized service that meets customer expectations in real-time.
We at BLE Mobile Apps can address needs and challenges of your projects by providing a solution that can help to leverage your business. Our expert BLE developers are well-versed in this technology and can provide you a solution that can cater your requirements.
Looking to know more about us, connect with us today.