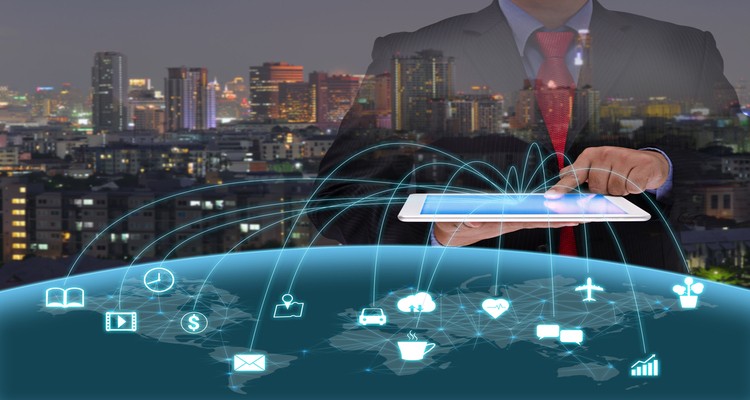 Whether it is searching for a parking space or collecting information about a new gadget displayed in the store I have just entered, all the information gets displayed on my Smartphone within few seconds. Internet of Things (IoT) makes that possible.
Internet of Things is now considered as the next industrial revolution by business experts and tech savvy consumers. The reason is – IoT has really transformed the way business processes are being performed and day to day tasks being carried out. Devices are now communicating with each other and getting things done without any manual interference.  Making homes, offices and industries much smarter than before, IoT is just connecting everything everywhere.
As per Business Insider report – in 2020, there would be 34 billion devices connected to the internet, out of which 24 billion would be IoT devices.
Let us have a look at various industries where Internet of Things has improvised the processes and play a vital role in the daily life of end consumers.
IoT in healthcare has transformed the way patients interact with physicians and doctors. The real-time communication possible due to IoT has the potential of keeping the patients safe and satisfied. IoT has also helped the healthcare industry in improvising their methods of caring and providing treatment.
A hospital in Boston is using IoT to keep newborns secure. A wrist band is tied to every newborn. Wireless network can locate the newborns at anytime. As soon as the newborn is taken too close to the exit door without signing out, the elevators would stop and exit doors get locked automatically.
IoT can also be used for improving patient experience in healthcare industry. For example, a notification can be sent to patient's relative as soon as the patient is out of operation theatre or critical unit.
So, the use of IoT is just not limited to medication or treatment in healthcare industry. It can be used to improvise security and boost patient's experience also.
With the increasing population, the need of increased food production is also required. IoT can contribute to fulfill the high targets of food production by improvising the agriculture processes. Real-time monitoring of the weather suiting to different types of crops can help farmers to forecast in a better manner and plan their crop harvesting strategies. Accurate weather information is the key to intelligent agriculture which is possible with the help of IoT. Technical innovation in agriculture industry can bring several monetary advancements in entire nation's economy.
In construction industry, it can be used in multiple ways. Small devices can be placed in the material which can give the complete information about the quality of the material on your Smartphone. Also, IoT enabled devices can inform you about the inventory so that you can order the required material on time and your construction project doesn't get delayed.
IoT can also help in positioning the landscaping or excavation equipment on a terrain and then following the instructions using virtual map relating to digging, cutting or other modifications to be made. This helps in eliminating manual efforts and saving time.
The manufacturing industry now uses IoT devices to increase productivity and efficiency in its operations. The manufacturing equipments now come with in-built sensors which help the companies in minimizing errors and provide flawless products in the market. IoT has helped the manufacturing units in replacing batch-level visibility with unit-level visibility which has ultimately led to the production of high quality products. Starting from plant floor to the supply chain, the entire information about manufacturing process can be captured on a real time basis.
As soon as you walk-in a store, you start getting messages about the discount offers prevailing in that particular store. What is that? Of course, it is the smart connectivity offered by IoT. There are small battery powered devices placed in the store called beacons which connect with your Smartphone and provide relevant information. This has benefitted retail industry a lot in advertising their products and their by increasing the sales. Besides advertising, IoT can also be used for managing inventory in a retail store. Your Smartphone tells you if any of your item goes below the pre-defined level. Also, the supplier is intimated about the same and you get the products delivered at your door step. Thus, minimizing manual efforts and automating retail process can enhance productivity and help grow business.
IoT applications leveraging connectivity and real-time insights are enabling smart city initiatives globally. These applications have tremendous capabilities of remotely monitoring, managing and controlling devices. Improved infrastructure, enhanced public transportation, cost-effective municipal services, ensuring security of the citizens, all this is possible with the help of IoT. Thanks to Internet of Things, the street lights can be dimmed when there are less number of vehicles and pedestrians on the street which helps in saving electricity.
There is no doubt that very soon, you would be having a refrigerator at home which would send a message on your Smartphone as soon as eggs or milk is about to finish. IoT would help homes to become smart homes by automating many time consuming tasks. With a simple app on your smartphone you can control the temperature in your home. As soon as you enter a room, the lights get switched on automatically and get switched off as soon as you leave the room. Thus, IoT saves on your electricity costs too.
To Conclude….
Lowering operating costs, increasing productivity, introducing new products and expanding to new markets is the goal of every business which IoT can help to achieve. With the evolution of IoT, improvement in quality of life can also be ensured. For those looking forward to new developments, stop waiting, start experiencing.
Check Out a Few of the Related Posts Mentioned Below: