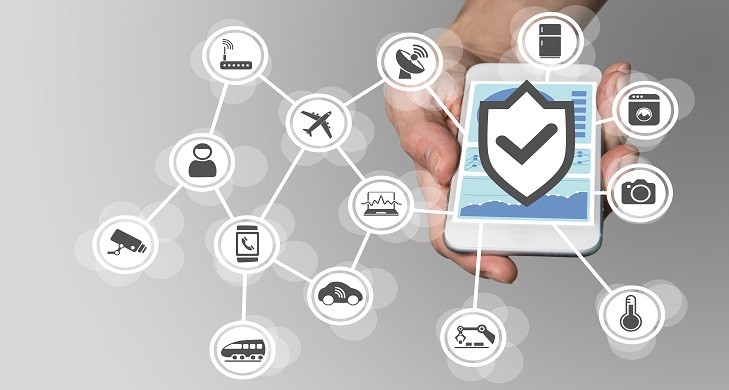 IoT is dominating the headlines today and it's growth has already transformed the way, people carry out their daily activities.  As per research, IoT will make the economic blow of $11.1 trillion a year by 2025. Isn't that quite BIG? With this fact, one can assume how much far IoT will travel and how immense it will be in future. However, IoT being huge- IoT Security is yet another talk topic trending in IT industry. To be precise, with this giant number, it is highly difficult to safe-guard communication of connected devices. Attackers can anytime steal the information if you do not have control on apps and objects. Still IoT is in emerging stage; security is yet to be understood compared to other industries. Although IoT Security must be fore-thought when you deploy any IoT product be it's on small or large scale.
But what is IoT security all about?
IoT is the inter-networking of physical devices that is embedded by sensors. It enables automatic data transfer because it is integrated with object and things by the medium of unique identifiers. As sensors are used in products, it is an emerging mode of communication between object and things. It provides business insights for the high volume of data used. Hence IoT Security becomes the important concern to protect confidential data emerged from connected devices. And if proper measures are not carried out, it would be useless to build the connected world. Due to rise of threatening vulnerabilities, data can be used by hackers to demeanor immoral activities like monitoring feeds, authorizing other people to get remote access control etc. Hence, with the increase of connected devices, security has also emerged as one of one of the crucial concern. Hackers would leave no stone unturned in grabbing the opportunities to attack.
Risk connected with IoT
App development for IoT presents unique set of challenges
Failure to address security needs: Generally SMEs don't think about consulting security experts because addressing the business needs is always their first priority. These devices lack in strategies which makes them more vulnerable. Hence attackers can have access to the system and data.
Difficult to secure: When you purchase smart devices, you do not have sufficient access to the security features of the native operating system. Some applications even do not provide any security features.
Data Ex-filtration: It is implicit that some suppliers grab the opportunities to adopt the smart system as they wish to seek consumer data and insights. But actually they look to provide the better customized products. Thus, consumer must be aware of the information used by the supplier to maintain business transparency.
Steps to Minimize IoT Security Risks
Security measures taken for securing IoT devices must be conducted at advance level which includes data encryption, firewalls, internal monitoring and authentication of user identity. The best security plans for IoT devices include the following elements:-
Cloud Infrastructure: Cloud computing supports IoT security by maintaining confidentiality, availability and integrity. Data exchanged between IoT endpoints, hub and cloud server must be encrypted and data fed must be thoroughly checked to avoid malware and application breaches.
Best Strategies: Enterprises must look to focus on the best strategies and standards used in industries. Regulatory standards ensure that service providers are capable of managing complexities, data protection, security assessment etc.
Security Design: Early implementation of security features must be done to eliminate the opportunity of hacking. Dynamic app testing helps to identify the vulnerabilities, hence must be done before hand. SQL Injection, scripting etc. such preventive measures must be taken to eliminate forgery.
IoT API Security: API Security is crucial as it authenticates the data between IoT devices and back-end system. API security ensures that only authorized devices, developers, objects and apps are communicating. It also detects the potential threats and attacks on specific APIs.
Don't let the fear ruin your IoT business
Yes, our world is highly connected but proper security breaches can always safeguard your business. Protection of your apps and data is ALWAYS important. When you choose us as your IoT security partner, you are giving your business in secured hands. We will design the best security strategies that are backed by an expert in data protection. Let's Connect!
Check Out a Few of the Related Posts Mentioned Below: