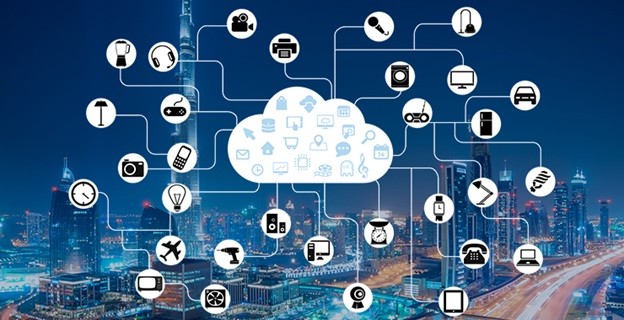 With 2017 coming to an end, 2018 is on the verge of bringing next big wave in IoT and digital transformation that impacts the businesses over the next 12 months and beyond. IoT being the worldwide recognized trend is gaining popularity incredibly fast by transforming businesses to create entirely new system, provide new services, engage customers and drive growth.
Physical devices are getting personalized with unique features. Hence, it becomes difficult to imagine life without today's electronic devices and for the younger generation, it has always been the part of daily life. Connecting everything; from smart home device to autonomous vehicle – the future of IoT looks promising.
Let's dig-in some of the IoT trends for 2018:
Increasing number of connected devices
Internet of Things is all about connecting devices together. In the coming years there will be more and more interconnected devices apart from smartphones like smart doors, smart locks and much more.  As more customers around the world purchase smartphones, tablets and other gadgets, it will even grow more and smarter providing the accurate decisions. Low power, short-ranged networked devices will be increasingly pushed by the companies and millions of more sensors will be embedded in the world in a short span of time. This will lead to the concept of smart cities, where it will play a core role.  Some countries have already started developing and realizing the concept of the smart city, you may see something very unpredictable in near future.
Personalized marketing platform
In 2018, IoT will provide more personalization that would help to turn customer interactions into relevant, contextual and personalized engagement. And ultimately, marketers will be able to place personal advertisements on mobile platforms depending on user behavior and profile. Such approach will transform the relationship between user and product owner and will empower with lot of information about the customer. This would create opportunities for deep marketing, better conversion, high lifetime value and greater retention throughout customer lifecycle. Other than that, this solution would help to optimize customer engagement by acting on what you know about the customers and the present moment of the customers.
One of the largest impacts of IoT in 2018 would be on retail. With the increase in sensor driven data, customers and business-owners have highly profited with the technology as it enables the business to make better and engaging market with the product from the customer's perspective. Additionally, companies use data by investing in sensor-based analytics which enable them to track the areas of their stores in terms of customer engagement. The impact of Internet of Things on retail outlines the new ways companies are using it to track inventory, manage losses and reach out the customers in new and exciting ways. The rise in embedded-sensor driven retail shopping will itself change the way how customers finds and buy their favorite products.
Smart home and Smart City
An interconnected device allows the owners to control and monitor the energy efficiency, security, access controls etc., imagine oven signaling you when your dinner is ready, automatically adjusting the temperature of air conditioner and much more – everything is on the verge of turning into reality in the coming future.  By combining analytics and big data, technology is moving forward bringing in new potential to build insights from the plethora of data. With the aim to provide smarter homes and smart city, various companies are working to establish a network of interconnected devices.
Today, increasing number of patients are turning to data-driven healthcare solutions as IoT reshapes and restructures how patients use and access the health care services. With the advancements in the wearable tech, wearable gadgets help in monitoring patient's health profile such as the blood sugar levels, heart rate etc. Hospitals and clinics can use the networked gadgets, which can remind patients when to take medicines, exercise, next due visit to clinic etc. In all this, wearable plays an important role and will continue to do so in coming years.
The Bottom line
Summing up, IoT has huge potential to offer numerous benefits as it works beyond collecting data and business insights. If implemented properly, it can lead to incredible changes that affect industries and lives of each single user. In 2018, industries like manufacturing, transport, agriculture, healthcare, retail, infrastructure etc. will be benefited by using Internet of Things to reduce risk, lower costs and create new revenue streams to improve business productivity and enhance customer experience.
We constantly research the new possibilities in Internet of Things and your search for IoT based mobile application development should end at BLE Mobile Apps.
Check Out a Few of the Related Posts Mentioned Below: