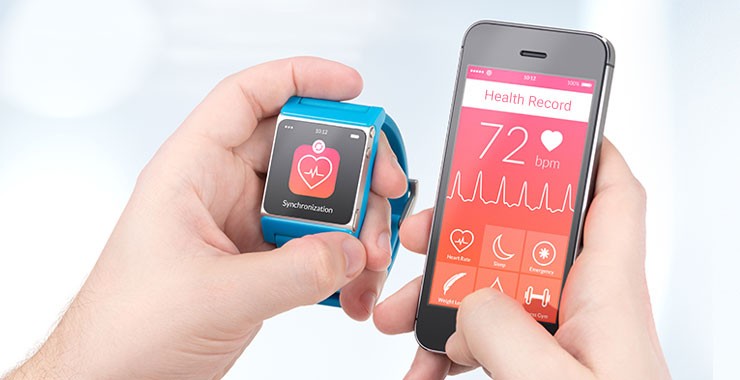 Internet pioneer and venture capitalist Marc Andreessen once said, "Software is eating the world"
i.e. information technology is transforming the structure and sociology.
Let's face it: A decade ago, hospital was the scary place for the patients and understanding the medical terms, consulting doctors and updating patient information was bit challenging. Fast forward today, scenario has changed completely. The healthcare industry started focusing on digital solutions which made accessing health information much easier.
Wearable devices like – smart glasses, wrist-worn displays, biometric authentication bands and hundreds of other devices worn on the body are reshaping the delivery of care. Result? Faster, higher quality decision making, more efficient work output and lower costs. Communication between healthcare providers and patients via multiple channels helped to build better relationships and supported improved treatment outcomes.
Wearable technology when coupled with mobile apps enabled physicians, nurses and other hospital staff to access the relevant and context aware information; hence it made possible to take instant action that reduced prolonging risk. The device is integrated with a sensor that gathers raw data which is then fed with database for analysis and then it typically triggers the response.
For instance: it might alert the nurse to contact patient who is suffering from abnormal symptoms or it might send any congratulatory message on achieving the fitness goal.
Let's Know Further, How Wearable Technology is Delivering Remarkable Benefits to Patients and Doctors
Patients can remain much more engaged with their own health as wearable technology enables to monitor their own health. Instead of having data collected only by doctors, patient can feel that they are in control of their own health. Most of the fitness trackers can track activity level, heart rate, sleep quality etc. Data is collected by their device and they can track this anytime to check when things seem to be irregular.
It also helps to motivate people to improve their health by doing more exercise, engaging in other healthy behaviors etc; other than that patient can also track weight and calorie which helps them to opt for healthy diets. Wearable device can bring whole new dimension to their life by encouraging healthy living and positive lifestyle.
Assists in medical procedures
With the help of smart glasses, medical students and health care professionals can enhance real-time visibility by providing live stream procedures, tutorials and seminars to connect with other resources and colleagues.
Furthermore, these wearable devices can provide access to the records of the patient which helps to look up at the important information without taking attention away from patients. Instead of looking at the patient's information on a tablet or laptop, or searching papers in the shelves of the hospital (which is a tedious task and sometimes delay may result into the fatal for patient); doctors can start conversation with the patient by checking the reports from the glass which means, doctor can spend more valuable time with patient.
Cost-effective and easier communication for patients
Wearable technology can also ease the strain to visit overcrowded hospitals and clinics. Monitoring the health with wearable device can lessen up the number of visits which ultimately reduces healthcare costs. With some vital symptoms, wearable device enables timely treatment and reduces the cost of hospital stays. Unnecessary medical tests and diagnosis can be prevented, which ultimately result in higher success rates for the treatments.
Furthermore, wearable devices changes the way how patients and doctors can share the data and information. Hence, this technology makes the communication easier between patients and doctors and helps to make better and quicker decisions, improves overall health and well-being.
Schedules your appointment
No matter what the health problem is, people generally forget their previously scheduled appointment. With wearable technology, physicians, nurses and other healthcare providers can send appointment updates, alerts, prescription notifications and much more. Additionally, there are fitness bands that come with periodic reminders which can be set to go on/off based on the periodic activity; these would remind the users to stay active.
With the associated wearable app, it is even easy for the patients to pass messages back and forth about specific health concerns or the questions related to the upcoming test. Since nurses stay occupied, this wearable device enables to deal with problems instead of building haystack at the end of the day.
Redefines the patient's monitoring
An outcome of patient admitted to the hospital depends heavily on early detection, timely response by staff, and appropriate medical intervention targeted at treating the underlying cause. So, with the help of wearable devices, doctors and nurses can monitor and record patient's position and notifies staff when repositioning is necessary while seated, when patient is out of bed, monitors the patient mobility level for appropriate discharge and much more. Wearable patch is placed on the skin to provide real-time medical grade data to draw clear pattern. If there is any patient who is to be monitored every few hour; wearable patch will record all the information required.
Example
Dartmouth-Hitchcock (D-H) is a nonprofit academic health system serving communities in northern New England came up with the new platform – ImagineCare which enabled the patients to jump into the network of health alerts and personalized supports. The platform is integrated with the band tracker to measure and collect personal health data. With ImagineCare app, D-H is providing holistic care platform that helps the patients to manage chronic health issues and self-care.
More than counting steps…..
Wearable devices being 24*7 with you helps to tackle emergency situations and can not only monitor patient data but also helps to send data to concerned physician. With the help of health based mobile app development, smart device can predict any emergency and warns patient simultaneously and healthcare providers and patients can take advantage of ease in working and saving lot of time and money. Looking to build one? Let's connect!
If you wish to learn more about wearable app development and understand how it can transform the healthcare industry, please contact us.
Also Read:

Role of Bluetooth Low Energy (BLE) in Wearable Technology

How Wearable Development is Helping Combat COVID-19 Crisis

How BLE Beacons are Transforming Healthcare in 2019