What are wearables
Wearables are modern devices that can be used for live-data access, entertainment, increased mobility, and context-awareness. They create a hands-free experience and make life easier. Some of the wearable app solutions created by the latest technological advancements are:
Fitness trackers
Smart clothing
Smartwatches
Head-mounted displays
Smart jewelry
Implantables
Wearable technology has revolutionized various sectors, including health and fitness, travel, hospitality, finance, business, and more. Read on to learn about its impact on the retail sector.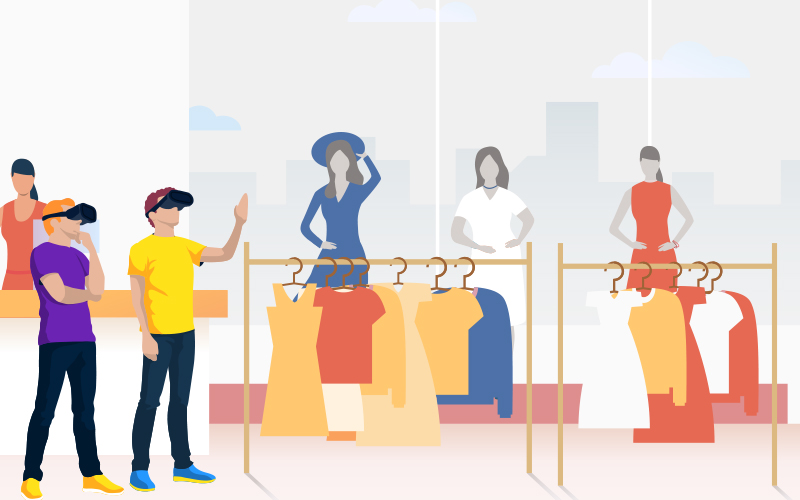 How Wearable Technology Can Revolutionize Retail Sector
Wearable technology has emerged as a game-changer in the retail sector. It has the potential to appease the modern business world. With its alluring role in new retail applications such as augmented reality (AR), this technology has permitted buyers to virtually get a feel of the product they wish to purchase. For example, you can virtually see how your living room would look with a curtain that you wish to buy.
Another reason for wearable technology gaining popularity is the easy mobile payment option that it provides. However, in the retail segment, wearables are recreating the point of sale. And this will be a drastic change for all.
Benefits of POS solutions using tablets for sales assistance, orders, and online payments, have greatly affected the consumers as well as the business owners.
The wearable technology devices are picking up the market, and they will become a crucial part of the e-commerce industry soon. Some of their benefits are:
The retail industry has definitely benefited from wearable technology apps, especially where productivity is concerned. The employees can now gather information with the help of wearable apps and devices, reducing the wait time for the customers.
As wearable technology devices tighten their grip over the customers and retail market, they have opened up great ideas for the retailers to enhance the customer experience.
Wearable devices are capable of carrying out a complete shopping process from browsing a product to purchasing it. Soon, when this gets common in the stores, it would be like a future hands-free shopping experience.
Real-time and personalized promotional and marketing messages can be sent to customers and potential buyers. This ultimately draws more traffic in the stores. Customers' purchase history can also help identify their buying patterns, therefore, share relevant information with them.
Retailers always look for a strong connection with their customers. And this can be done with enhanced customer service and the experience they have in-store. Moreover, sending relevant information at the right time is a benefit for the stores.
Smartwatches have increased productivity when it comes to payment processing in the retail segment. Moreover, digital wallet options are also beneficial.
Being a leading BLE app development company, we have the resources and expertise to offer excellent wearable app development services as per your needs. We will work to understand your requirements and come up with wearable apps to help you enhance your business reach.
For more information about our android and iOS wearables, get in touch with us by calling +1-408-400-3737.
Also Read:

Wearable Technology: Revolutionizing the Healthcare Industry