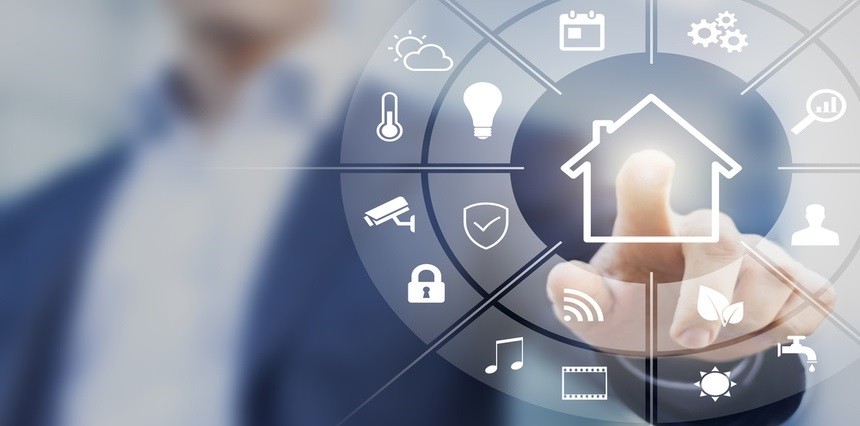 Around the globe, houses are becoming smarter and more connected technologically at an exceptional rate. Smart home appliances are getting installed in houses that have the potential to make our lives better, convenient, and comfortable. The real estate companies are making sure that they install wireless devices in the home they built and on the other hand, consumers are buying appliances for their home that comes with wireless capability.
Analysts expect the market for smart home appliances would be rising from $47 billion in 2015 to $122 billion in 2022.
Smart Home Appliances – How the technology works?
The IoT based home automation devices can send signals and communicate with Smartphones or Tablets. The sensors embedded in home appliances, lights, door locks etc., consistently send and receive the signals making possible to control them from a remote location. The wireless home automation appliances use cloud technology to store the data of connected objects. Moreover, the RF based home appliances utilize RF signals for transmitting data to Smartphones and tablets to send alerts.
It is really amazing to control and monitor home appliances using a simple application on your Smartphone. The concept of home automation is gradually getting traction among consumers. Several companies are coming up with these IoT / BLE enabled home automation products which come with enhanced security and convenience.
Benefits to Users
Security – A BLE enabled smart lock can ensure security of your home by a tap over the app. Don't worry if you forget to lock your door, you can do that simply using your Smartphone.
Comfort – Now you have the luxury of switching on the AC/heater even if you are few minutes away from your home. You get the room temperature as per your requirement when you reach home.
Saves Energy and Cost – Remotely monitoring and managing your home appliances, lights etc., helps you in avoiding energy wastage. Saving energy would save your spend on the utility bill.
Benefits to Manufacturers
Improve Sales – You gain the trust and loyalty of your customers by leveraging better products with secure features. Experience improved sales by providing innovative solutions to your customers.
Be Competitive – The comfort your products will provide to your customers would help you in making your products popular and getting ahead of your competitors.
Contribute to Better Lifestyle – By providing cost-efficient and convenient home appliances and security systems, you are contributing to a better lifestyle. At the same time, you are expanding your client base and growing your business.
We are here to help!
We have worked extensively on developing mobile apps for BLE powered devices. In early days of BLE technology itself, we have gained the experience and expertise required to develop innovative apps used in smart home automation systems. Equipped with highly skilled BLE app developers and infrastructure, we can convert your idea into a BLE application successfully. Just get in touch with us and we can help you in introducing innovative solutions leading to growth of your business!!!