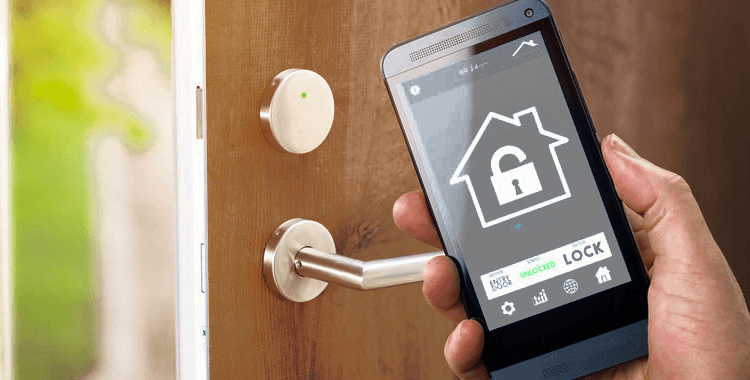 Since, smart home technology became trendy; millions of smart devices have snowed over in the market. Gradually, people started admiring smart devices due to its new innovative and unique concept. As the smart devices puts more focus on security like smart door locks, security camera, smart lighting etc., it gained traction in a very short time. As per the research, at every 18 seconds, Burglary occurs in USA and most of theft happens through front door. So, it is crucial to have the lock that is both practical and secure.  And to pace up with the safety, Smart Locks are the only solution.
But, what is Smart Locks and how it works?
It is not only about keyless door lock, but also includes numeric keypads to unlock/lock your door with a pass code. Every lock operates with your mobile app on iOS or Android which communicate wirelessly with your phone, via Bluetooth or Wi-Fi.
Smart locks are operated with the amalgamation of software with that of hardware and electronic components. A number of encrypted Smartphone signals make the use of 256-bit encryption codes to send messages and provide alerts to the Smart Locks to either lock or unlock. The protocols that make this happen, ranges from Bluetooth to Wi-Fi to Z-wave. It is integrated with the use of batteries or by a live current and also it is kept in a low power state until it receives data transmission. It works by connecting with the mobile applications that serves as a bridge between lock and key.
Smart Locks are generally used in:-
Door locks:  It replaces your front door traditional deadbolt locks for the easier way to lock/unlock the door without key. Most smart locks lets you to receive alerts and track who's entering and leaving your house; email pass code to visitors, children, trusted workers when you're not home; and remotely lock and unlock when you're away from home.
Vehicle locks:  The BLE enabled vehicle lock can always make certain of your safety wherever you have parked your vehicle. You can unlock or lock the bike with a simple tap on your smart phone. Thus, no more panicking if you lose your key. Get a smart lock mounted on your vehicle and move places without worrying of losing your bike or its keys.
Technology is supposed to make our lives easier, more convenient and safer. And in many ways, smart locks live up to these expectations.
How Smart Locks help us?
Easy to use and keyless entry
It functions using pass codes, Bluetooth, biometrics or mobile app.  So, you don't have to worry, in-case someone gets locked out of the house, key-loss or any theft.
There are many smart locks available that enables you to create innumerable temporary and permanent pass codes. So, it is easy to provide temporary access for visiting guest and then delete the pass code when they leave.
When you create pass code for each person, you can use app for smart lock to track people who entered or left the house with every details.
With the use of mobile app, you can keep track of the visitors and see the status of the lock and receive notification if someone attempts to fiddle with it or inputs a wrong pass code.
Smart doorbell compatibility
Some smart lock can also be linked with smart doorbells, so you can get notification when anyone is near to your door.  With the help of doorbell's camera and audio system, you can track that person and even speak with them.
Besides alarm, the app also triggers alert/notification messages to configured mobiles. The mobile app user can share his secret pass code details to family members or friends, so that they will also receive the alerts during trespassing.
The smart lock is integrated with GPS chip which allows you to track your vehicle in real time using your smart phone. Precise location of your vehicle can be traced using the GPS enabled chip.
Without a doubt, the use of Smart Locks is increasing and will be at its peak very soon in near future. The traditional design is challenging the limits of security. As Smart Lock industry is looking for the new ways to enhance security features, we at BLE Mobile Apps can develop BLE Smart lock app as per your requirements.
Any queries whirling in your mind?  We are just a call away!
Also Read: