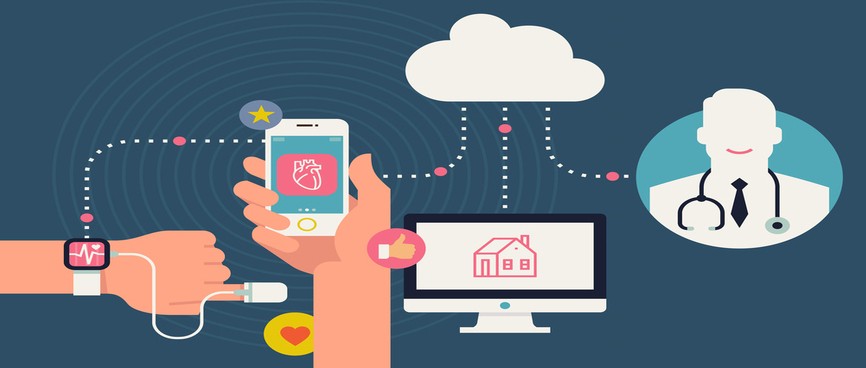 As per the study by Bluetooth Special Interest Group (BSIG), within next few years, BLE would be powering more than 10 billion Healthcare and Medical devices. The portable medical devices working on wireless technology were facing power consumption issues which have been solved at a great extent and the credit goes to BLE technology.
BLE powered devices used in healthcare industry are gradually reducing the dependency on humans and the errors associated with them. These devices can provide the facility of early diagnosis of any disease and treatment of various serious issues ultimately improving the standards of healthcare and medical services.
Features of Bluetooth Low Energy Technology
The BLE powered medical devices work in such a way that minimum power is consumed. Whenever an event occurs, the BLE device wakes up and sends a short message to the Smartphone, tablet or PC. Rest of the time the BLE device is kept in sleep mode. The power consumed in BLE technology is one tenth of the power consumed in Classic Bluetooth technology.
Cost Efficient and Compatible with Small Battery Devices
BLE enabled devices are compatible with classic Bluetooth technology and are cost efficient due to their low power consumption features. It works on dual mode technology which includes low energy and classic Bluetooth functionality. Focusing on low power consumption, the BLE technology is optimized for small battery devices and proves to be extremely cost-efficient.
Secure, Reliable and Robust
BLE technology uses Adaptive Frequency Hopping (AFH) technology similar to Classic Bluetooth technology which helps in achieving robust message transmission from medical device to Smartphone or a tablet. BLE Technology uses 40 2 MHz wide channels whereas; classic Bluetooth technology uses 79 1MHz wide channels. This is the reason BLE technology is able to minimize cost and consume low energy.
The BLE technology is basically based on the concept of master connected to slave. A master can be connected to several slaves. The master can control on number of times the slave can communicate and the slave is allowed to communicate only if master commands. In this case, the master is the Smartphone, Tablet etc., and the slave is BLE enabled small device. Due to this simplified way of connection, it becomes easy to integrate this technology in various medical and health related applications.
Application of BLE Technology in Healthcare
The BLE powered blood pressure monitors the systolic blood pressure, diastolic blood pressure and pulse rate and updates on Smartphone, Tablet and Smart watch. This information is recorded and can then be shared with the physician to analyze the health of the patient. You can also monitor your blood pressure while walking or running on a regular basis to avoid future health issues.
With the help of BLE enabled glucose monitors, the patients can themselves check their sugar level and get it updated on your Smartphone. Later on, that information can be shared with the doctors to get your health analyzed for further treatment.
The internal navigation system in a multi-specialty hospital can be powered with BLE which can help patients, visitors and hospital staff to navigate their way to different health departments. It is quite convenient to find the entire hospital map on your Smartphone so that you can reach to the destination without bothering anybody or looking out for direction boards.
Improved Hospital Operations
The hospital staff members can be notified about patient details such as medication requirements, about emergencies or their daily duties as soon as they enter their designated work area.
Conclusion
BLE technology having so much of potential of providing powerful applications to the healthcare industry is just perfect to rely on by doctors and patients. The BLE enabled devices these days are being used by multi-specialty hospitals as well as small clinics to provide better healthcare services to the patients and gain accuracy and perfection in the administration of the hospital as well as treatment provided to the patients.
For more information about Bluetooth low energy technology's application in the medical industry, you may reach out to our consultants by calling +1-408-400-3737.
Also Read:

How BLE Beacons are Transforming Healthcare in 2019

Wearable Technology: Revolutionizing the Healthcare Industry